Trendsetter Talks: Austyn @AUSTYNPAULA
Hello, trendsetters!
Today we're chatting with fashion influencer and video blogger Austyn Paula. Austyn is a West Coast beauty that loves style, high-waisted denim, and sharing her journey with her followers. We simply had to know more about this trendy babe and what inspires her!
So relax, make yourself a cup of herbal tea, and let's get sharing.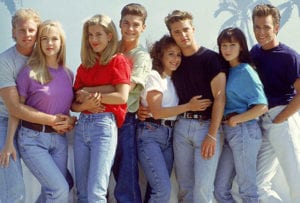 Which eras of Interior Design most influence your style?
I'm absolutely obsessed with 90's fashion. I really discovered my style in high school while watching Beverly Hills 90210. I'm so OCD about chronological order so I had to watch the 90's original before I would dare to watch the new ones!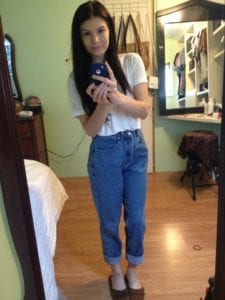 THROWBACK (May 2014, 18 years old) I would do anything to get my hands on outfits that Brenda or Kelly were wearing! Especially high waisted baggy denim! Blue jeans, white shirt was my motto. P.S huge hair transformation since high school.
Additional 90's era inspo is: Clueless, Friends, Buffy the Vampire Slayer, Sex and the City.
Which is your favourite season, threads-wise?
Very early fall! Basically only the September part of fall where Layering and turtlenecks make a comeback but it's still fairly warm out. I'm always cold and I'm such a summer person so it's nice when the season transitions into fall and I can bundle up even in 25-degree weather.
But that being said, I love the heat so much that I would 100% exchange it for year-round heat and exclusively wear summer clothes. 

What's your best piece of fashion advice for 13-year old Austyn?
Do NOT stretch your ears! I am constantly having to compromise when it comes to earrings because the hole never shrunk back to its normal size (cue the tears)

Save up for the clothes you love! I was just collecting my first paychecks and I only spent my money fast food and cheap clothes. I'd love to show my younger self how saving up for quality items could really benefit my wardrobe and become long-lasting staples.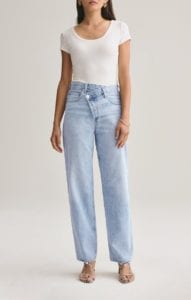 What current trends, make you go "uh-huh, honey!" in a good way?
The Prada Monolith patent leather booties. I purchased a similar style from Zara and I'm obsessed. I also have been loving knee-high patent/ faux leather/ croc boots. 
The AGOLDE criss-cross jeans are to die for.
Also, pastels! I can't stop wearing soft pink, blue, and green. They're not traditional fall colours but I think they're really pretty and a fun change.
What do you predict for Design in 2020?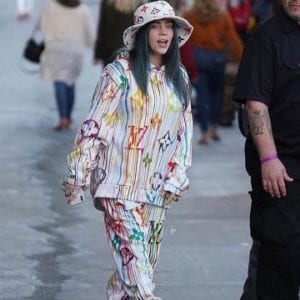 Not a fashion item, but, I think with the bankruptcy of Forever21, It may represent a change in consumer behaviour to favour smaller brands, slow fashion movements, and other environmental forward choices. 
I think in 2020 we will still see tonnes of blazers. They're so versatile so it's such a good staple piece that will stick around.
Probably some bold silhouettes. More puffed sleeves, maybe more shoulder pads and chunky footwear or maybe even bold fashion in general to fit a Billie Eilish style of boxy neons and large patterns (logos)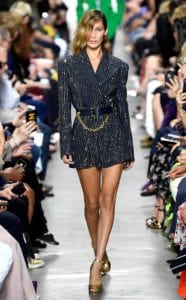 How will The District on Bernard change the fashion space in Kelowna?
The District's remodel is already stunning and creates more of a luxurious atmosphere to shop. I think it adds a much-needed place to grab a coffee and catch up on appointments or shop with your girlfriends. I think that a lot of great smaller brands and curated boutiques will be perfect for all fashion needs!
What would be your dream store to open at The District on Bernard?
It would be amazing if a sort of "rotating pop-up" could come into the District. I would love to see a space that could be transformed monthly to anything from brand pop-ups or showrooms/ gifting suites to small local businesses that want to test out short term leases. Or even during lower demand times bloggers like myself could come together to co-host a closet sale!
I also think it could be interesting to see some higher fashion brands (if only I could afford it) 

What's your favourite place to shop in the Okanagan and why?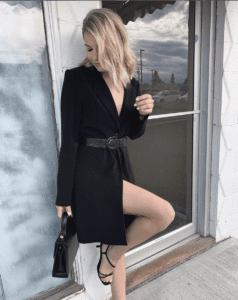 My most frequently shopped place is honestly Value Village. It's only a 5-minute drive down the hill from me so it's very easy to just drop in once a week. I stop in at a few other thrift and consignment stores too like Frock and Fellow.
The main thing I enjoy about thrifting is the endless possibilities of what you can find (like this outfit on the right, all thrifted minus the shoes!). Some of my favourite thrifted items are: a houndstooth printed fall coat, white mules, and nearly every purse I own.
Other local stores I enjoy are: Grace, Aritzia, and Fossellos! 

Name another influencer from the Okanagan who you would love to collaborate with in 2019?
I actually don't know many local influencers, but I've had some good chats and coffee dates with Courtney @sincerelycourtney and I'd love to get to know her better and work on a local collab!
Also, one of the Aritzia babes Bella Cooper @bellaecooper reached out to me so we can grab a drink or go for coffee and shoot together and I'm definitely looking forward to that! 
So, there you have it – straight from the source! If you're looking to connect or stay up-to-date with Austyn, follow her on Instagram @AUSTYNPAULA or YouTube Austyn Paula.
Until next time, 
The District on Bernard xx