Trendsetter Talks: Carly @CARLYMAL
Hello, trendsetters!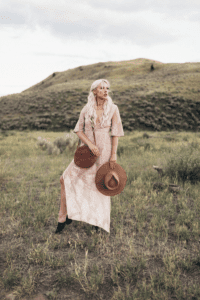 Today we're chatting with Carly, the style-icon and beauty that is Carly daily. Carly is a well-known Okanagan influencer who loves all things fashion, food and home decor. We simply had to know more about Carly and what inspires her!
So relax, make yourself a cozy cup of tea, and let's get sharing.
Which eras of Interior Design most influence your style?
I don't necessarily think there's an era that influences my style, but rather a feeling. My fashion is usually not fussy and inspired by how I'm feeling that day. I often have a bohemian influence in my style, but I do also love a good pair of worn-in denim and t-shirt!

Which is your favourite season, threads-wise?
Fall (I love layers!)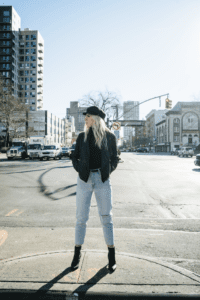 What's your best piece of fashion advice for 13-year old Carly?
Wear whatever makes you happy because I can guarantee everything will be 'on trend' at one point or another so who really cares what everyone else is wearing.
What current trends, make you go "uh-huh, honey!" in a good way
High-waisted worn-in denim (jeans, shorts, whatever!)…obsessed!
What do you predict for Fashion in 2020?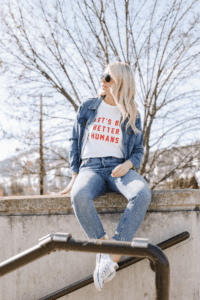 I predict we will see more 90s inspired fashion coming to the streets (tight bottoms, with oversized tops), chunky footwear, and fun accessories. More sustainable fashion and thrifting will be big too!

How will The District on Bernard change the fashion space in Kelowna?
The District on Bernard will provide a collaborative space for all different fashion retailers. We are better together and can open up Kelowna to more trends than we are used to in our Kelowna bubble 🙂
What would be your dream store to open at The District on Bernard?
Free People or Anthropologie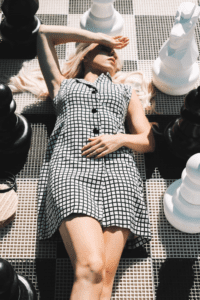 What's your favourite place to shop in the Okanagan and why?
I have two favourites: 
Boheme Collective: I love the brands they carry and they offer good value for quality offered
Value Village: Some of the pieces I get the MOST compliments from are from Value Village and probably cost me less than $10  (The black and white dress below on the right was thrifted for $8, vintage!)
Name another influencer from the Okanagan who you would love to collaborate with?
There's too many! Luckily for me, I have collaborated with SO MANY here in the Okanagan and it's always a fantastic experience! I'm always open to collaborating if another influencer asks, we are BETTER TOGETHER! If there are any influencers in the Okanagan that want to collab, hit me up!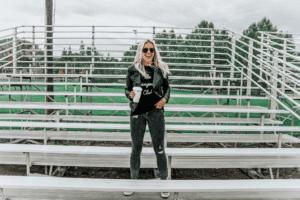 So, there you have it – straight from the source! If you're looking to connect or stay up-to-date with Carly, follow her on Instagram @carlymal or visit the Carly daily website.
Until next time, 
The District on Bernard xx