Trendsetter Talks: Kara @ Blue Alice Space Design
Hello, trendsetters!
Today we're chatting with Kara, the oh-so-talented woman behind Blue Alice Space + Design (@blue_alice_space_design). Kara is a well-known Okanagan interior designer with over 10 years of experience in the industry. We simply had to know more about this beautiful lady and what inspires her!
So relax, make yourself an aromatic cup of tea, and let's get sharing.
Which eras of Interior Design most influence your style?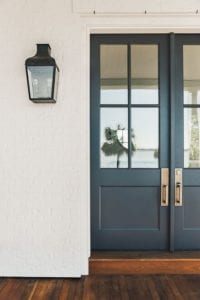 Oftentimes clients get wrapped up in defining the 'style' or theme of their home, is it modern or traditional or Hollywood Glam? There are numerous fads and trends out there that influence my day to day design but my personal style is profoundly influenced by these two Design Eras (I used an article on Interior Design History & Origins from Decor Aid to find my answer):
Mediterranean 1920's – Today 
"To evoke the feel of coastal European countries, textures from terra cotta, stone, and patterned tiles were heavily featured along with wrought iron, and aquatic hues"
Transitional 1950's – Today
"Transitional style refers to a mix of traditional and modern furnishings, fabrications, and decorative features that lend you more freedom when looking to decorate your home with ease as there's no end to the directions you can take the design style"
I love this last sentence. I'm a firm believer that in design, there is really no right or wrong (well sometimes!) but there should be a sense of self in all spaces.
Which is your favourite season, threads-wise?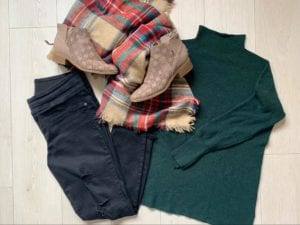 Autumn is my favourite time of year for clothing. Cozy sweaters, suede booties and jeans are my go-to when I'm in a rush, while still looking stylish.
Now that I work from home, I make sure I at least put on mascara and a quick outfit before dropping my son off at daycare, so this style is perfect for me! 
A Large sweater that doubles as a campfire blanket is the perfect accessory and I always carry one in my car. 
What's your best piece of fashion advice for 13-year old Kara?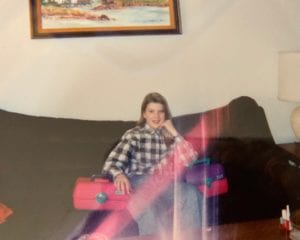 "Put down the crimper and plaid skirt and stop writing fan mail to Tiffani Amber Thiesse; she will not show you how to tease your bangs like that."
My adult-self would also tell her to hang on to those mom jeans, they will come back in style when you are actually a mom! I didn't really think much about fashion when I was younger (which is very clear in some photos) but I tried to emulate the likes of the girls from my favourite TV shows such as Saved by the Bell.
I did do a solid year of grunge in grade 7 thanks to My So-Called Life, which unfortunately did not lead Jared Leto being my boyfriend!
What current trends, make you go "uh-huh, honey"…and not in a good way?
Crop tops. Yes, crop tops are up there with my distaste for cantaloupe (I don't like it)! Crop tops with a high waisted skirt sure, but when I see young girls with belly-baring shirts, it's too much. We talk so much about this young generation growing up so fast due to technology and having everything at our fingertips. I feel this sexualizes young girls before they are ready to understand that what you wear can shape and define you.
What do you predict for Design in 2020?
The movement towards zero waste is gaining momentum. We've spent the last 30 years as a wasteful society changing our furniture and accessories as often as we like, so I feel this next year we will see more people repurposing items, reupholstering furniture etc. I think natural and organic elements will be paired with texture and pattern in soft tones and graphic patterns will be at large.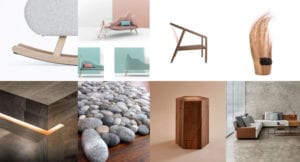 Images sourced from the A'Design Awards
How will The District on Bernard change the fashion space in Kelowna?
Over the last 10 years or so, the fashion and design scene in the Okanagan has grown immensely and the District on Bernard is a perfect canvas for this industry. It's light, bright and modern with a central location that draws locals and tourists alike.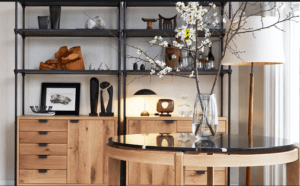 What would be your dream store to open at The District on Bernard?
For design, The Cross because of ALL of the things they carry. Or, Roman And Williams Guild (New York City), mostly because they have a cafe with wine!
What's your favourite place to shop in the Okanagan and why?
For furniture and decor, I love the new Lakehouse (on Ellis). The furniture lines they carry range in style and price point, and the space itself is stunning. I love trying to figure out where I used to dance when it was Flashbacks! New York is my favourite city and this store reminds me of ABC Carpet & Home. There's something for everyone.   
For fashion. I really enjoy Frock & Fellow. They have a variety of in-season styles and as it's a consignment store, the prices are fantastic! And I love a good find, especially the Michael Korrs sweater I bought there last fall. 
Name another influencer from the Okanagan who you would love to collaborate with in 2019?
I worked with Jillian Harris on season 5 of Love It or List It Vancouver so would love to work with her again, she has a great eye for design and is such a fabulous and inspiring woman! I love collaborating with other interior designers too, so I look forward to working with Tara Reavie.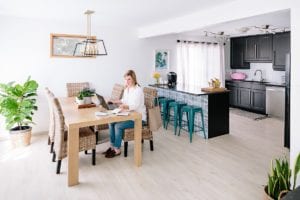 So, there you have it – straight from the source! If you're looking to connect or stay up-to-date with Kara at Blue Alice Space + Design, follow her on Instagram @blue_alice_space_design or visit her website.
Until next time, 
The District on Bernard xx