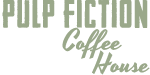 COMING SOON – Pulp Fiction
Pulp Fiction is one of the exciting businesses coming soon to the District on Bernard; offering espresso drinks, tea, pulp fiction art, and books, all in a groovy retro atmosphere in downtown Kelowna.
As a hub for studying-students, aspiring writers, serious business people on laptops, morning jolts, and quaint first-dates (and beyond), this coffee house has something for everyone. It is not just a mere coffee house, but an artistic experience.
The vision for this experience was built by owner Max Sloan, who had been planning this experience for half of a century! During his 45-years in the oil business, Max was able to travel around the world, collecting unique items for his one-day coffee house. His destinations always included local bookstores, and from this was able to build up a substantial collection of books, bookends, and antiques.
Max retired and was finally able to pursue his dream of opening the Pulp Fiction coffee house. With much more to offer than amazing cappuccinos, you can spend hours here exploring Max's collection.
This will be the second location for Pulp Fiction, with the first already-established coffee shop located on Pandosy Street. Curious about what's inside? Check out this virtual tour of the Pandosy location interior.
One of the most amazing things about this coffee shop is that the books are for sale! Robbie Rare Books is the book component of this business. What better way to spend a morning, than perusing through an amazing book collection. With your coffee in one hand and a book to take home in the other, you're ready to start your day right.
Get ready to be transported into the 50s and 60s, with artistic inspiration, entertainment, and amazing coffee & treats.